Our vision
Ensuring that the people of NSW have access to services and infrastructure that deliver social and economic benefits underpinned by a strong and sustainable economic and financial position
Our strategy
Our building a world class Treasury strategy was developed in 2015 in collaboration with the Premier and Treasurer. The strategy focuses on partnering with our key stakeholders to bring about the best outcomes for the people of NSW.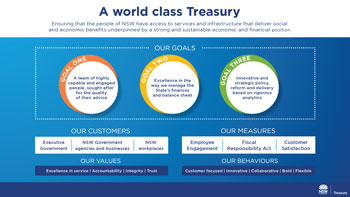 Download our Strategy on a page
Our customer
Our key customers are the Executive Government, NSW workplaces and NSW Government agencies and business.
Our partners
In order to deliver on our vision we work closely with our principal partner the Treasurer and Minister for Industrial Relations. At the same time we also have strong partner relationships with the Premier, other government agencies, government commercial entities and non-government delivery partners.
Our goals
Goal One – A team of highly capable and engaged people, sought after for the quality of their advice
Goal Two – Excellence in the way we manage the State's finances and balance sheet
Goal Three – Innovative and strategic policy, reform and delivery based on rigorous analytics