Our vision
NSW Treasury's vision is to enable the Government to deliver on its promises to the people of NSW that the State will always be a great place to live and work.
Our strategy
Our building a world class Treasury strategy was developed in 2015 in collaboration with the Premier and Treasurer. The strategy focuses on partnering with our key stakeholders to bring about the best outcomes for the people of NSW.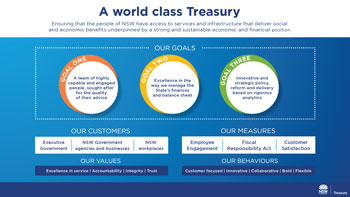 Download our Strategy on a page
Our customer
Our key customer is the NSW Government on behalf of the people of NSW.
Our partners
In order to deliver on our vision we work closely with our principal partner the Treasurer and Minister for Industrial Relations. At the same time we also have strong partner relationships with the Premier, other government agencies, government commercial entities and non-government delivery partners.
Our goals
To support the delivery of our strategy, NSW Treasury has identified four goals with supporting actions. Each Group within Treasury then developed their own actions to ensure alignment with and delivery of Treasury's goals.
Goal One – Be sought after for the quality of our people and our advice
HOW: Build a culture of highly engaged and talented people who deliver great outcomes for our partners
Goal Two – Make NSW a world leader in infrastructure delivery and service provision
HOW: Provide high quality advice and procurement support to inform government decision making – to deliver services and infrastructure valued by the community
Goal Three – Provide excellence in the delivery of priority projects
HOW: Build and implement a best practice project delivery methodology which delivers projects aligned with Government's goals
Goal Four – Develop a new approach to financial risk and balance sheet management
HOW: Build and implement a framework to drive value and manage risk for the State's assets and liabilities