Author: Glenn Goldsmith
Commissioning is a broad term, but at its core is a focus on how we can deliver better outcomes and better value from public services. At Commissioning NSW we are committed to always reflecting on and improving how we do commissioning. 
Since the end of 2019 we have been piloting a new model of working to better serve our partners – which range from government agencies, to social enterprises, to community organisations and private investors. 
The new model concentrates our skills offering on four key practice areas. These practice areas do not aim to cover the entire breadth of commissioning practice, but instead focus on where we think there is opportunity to build the capabilities of NSW Government to innovate and deliver better outcomes.
Future blogs will bring you stories of how our practice areas are going, and what we have learned along the way. We will also share case studies from other teams across NSW working in this space. If you are interested in collaborating on projects with us, please get in touch at [email protected].
Our Four Practice Areas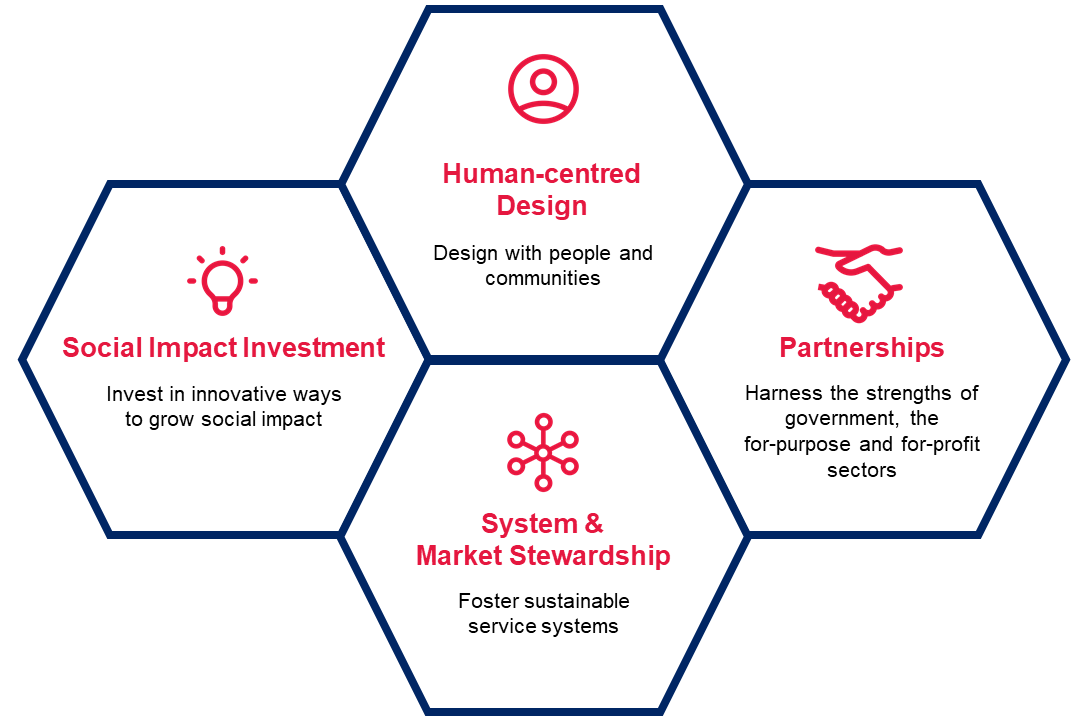 1.    Human-Centred Design
As our Human-Centred Design (HCD) director, Sarah Hurcombe, puts it – "commissioning is about humans ". Our goal is to design with people and communities to achieve what matters to them. So often government policies fail because they don't consider the lived experience of people using services and their own families and support networks. The knowledge and experience of people working within the current service system from front-line to management can also help senior decision makers better understand complex service system and think differently about solutions. 
We use qualitative user research, facilitated workshops, prototyping and user testing to support our partners design better services, processes, contracts and more. Our work in the last two years has covered a diverse range of areas, from the design of support models to keep families out of the statutory care system, to developing an approach to inform how government can become a more culturally safe space for Aboriginal senior executives to work and to re-thinking government procurement processes in light of the challenges posed by COVID-19. 
2.    Partnerships
NSW Government works with a variety of partners to deliver public services for the people of NSW. Our Partnerships team offers commercial and financial advice to agencies on the delivery of complex projects, including the design, implementation and management outcome-based contracts and tender processes. 
We run a 'Commissioning Contract Managers Community of Practice' (comprac) to build commercial and contract management capability across the public sector. Through the comprac, we share best practices and provide practical resources such as service agreement templates and case studies. 
In the past three years, we have provided advice to over 25 service commissioning projects. Recently we supported the Department of Communities and Justice to deliver the Social and Affordable Housing Fund, which has aims to provide 3,400 additional social and affordable homes together with coordinated access to tailored support services that empower people to improve their lives and achieve greater security and independence. 
3.    System and Market Stewardship
Most public services operate in a context of broader systems, where government, as the Institute for Government says "does not directly control the way services are delivered [and] outcomes are instead determined by the interaction of service providers, service users and the design of the [system] itself." 
Our System and Market Stewardship team aims to foster vibrant, sustainable, and high-performing service ecosystems, in areas ranging from educational services for at-risk students to the development of a sustainable waste strategy for NSW. We work with agencies to build a system vision, architecture and incentives, and ongoing monitoring and management, to achieve system outcomes.
4.    Social Impact Investment (OSII)
We collaborate with passionate and innovative partners in the public, private and not-for-profit sector to tackle major social challenges by testing, investing in and measuring new ways of amplifying social impact. 
Since launching Australia's first two Social Benefit Bonds in 2013, NSW Government has been the pioneer of social impact investment (SII). We have implemented eight investments, representing $235 million in outcomes-based contracts spanning family restoration, mental health, homelessness and youth unemployment. Recently Australia's first SII, Newpin, came to fruition after seven years of operation, not only paving the way for more outcomes-focused, evidence-based contracting and early intervention pilots, but most importantly creating a profound impact on the 399 families who have been reunited.  
We are committed to working in partnership to create long term social impact, be it through SII, or more broadly through social enterprises, social procurement, or sustainability bonds.
The commissioning landscape is growing in NSW
Commissioning is a key part of how government services are delivered. At CNSW, we collaborate with and learn from other teams in the commissioning space. 
The Policy and Practice team in the Strategy, Policy and Commissioning division in the Department of Communities and Justice build commissioning expertise in the delivery of human and justice services. From an early focus on supporting the transition of disability services to the National Disability Insurance Scheme (NDIS), and then to improving out-of-home care services and supporting innovative approaches to increasing community housing, the team is now focusing on how a commissioning approach might improve community-based justice services. 
Commissioning for Better Value is one of the state-wide programs accelerating the move to value-based healthcare in NSW Health. The program is shifting the focus from outputs to outcomes in clinical support settings (pathology, medical imaging, radiation oncology) and non-clinical settings (ambulance make-ready).
The National Disability Insurance Scheme is an example at the Commonwealth level, where the government is placing choice and control of services with the clients of disability services, who are often best placed to decide what is right for themselves.  
Primary Health Networks have long been using commissioning approaches with primary health care providers and secondary care providers and hospitals to facilitate improved outcomes for patients.
How can I partner with Commissioning NSW?
Our team does nothing alone. Everything is a partnership with other teams and agencies in NSW government commissioning and providing services, with private and social sector organisations delivering services on behalf of government, and with people and communities we want to serve.
As NSW Government moves towards outcome budgeting across the sector, our team is a resource to support agencies look at how they can ensure their programs are getting the intended outcomes. 
We are always looking to share ours and others' practice and experience with the rest of the public sector. Please get in touch at [email protected] if you would like to talk to us about opportunities to collaborate.