Childcare is the biggest lever for improving women's economic opportunity
Female workforce participation in NSW lags behind male participation
Female workforce participation has increased significantly over the last four decades. Despite this, the rate of women's workforce participation continues to lag well behind that of men. In 2021, working age women (age 15-64) in NSW had a labour force participation rate of 74 per cent, compared to 82 per cent for men (Australian Bureau of Statistics 2022, Labour Force, Australia, detailed, April 2021). This means that around 210,000 fewer working age women are in the NSW workforce than there would be if they participated at the same rate as men. Under current policy settings, this gap is projected to decline only marginally by 2061. Women who are employed in NSW are also twice as likely to work part-time as men. 41 per cent of employed women in NSW work part-time compared to 19 per cent of men (Australian Bureau of Statistics 2022, Labour Force, Australia, December 2021).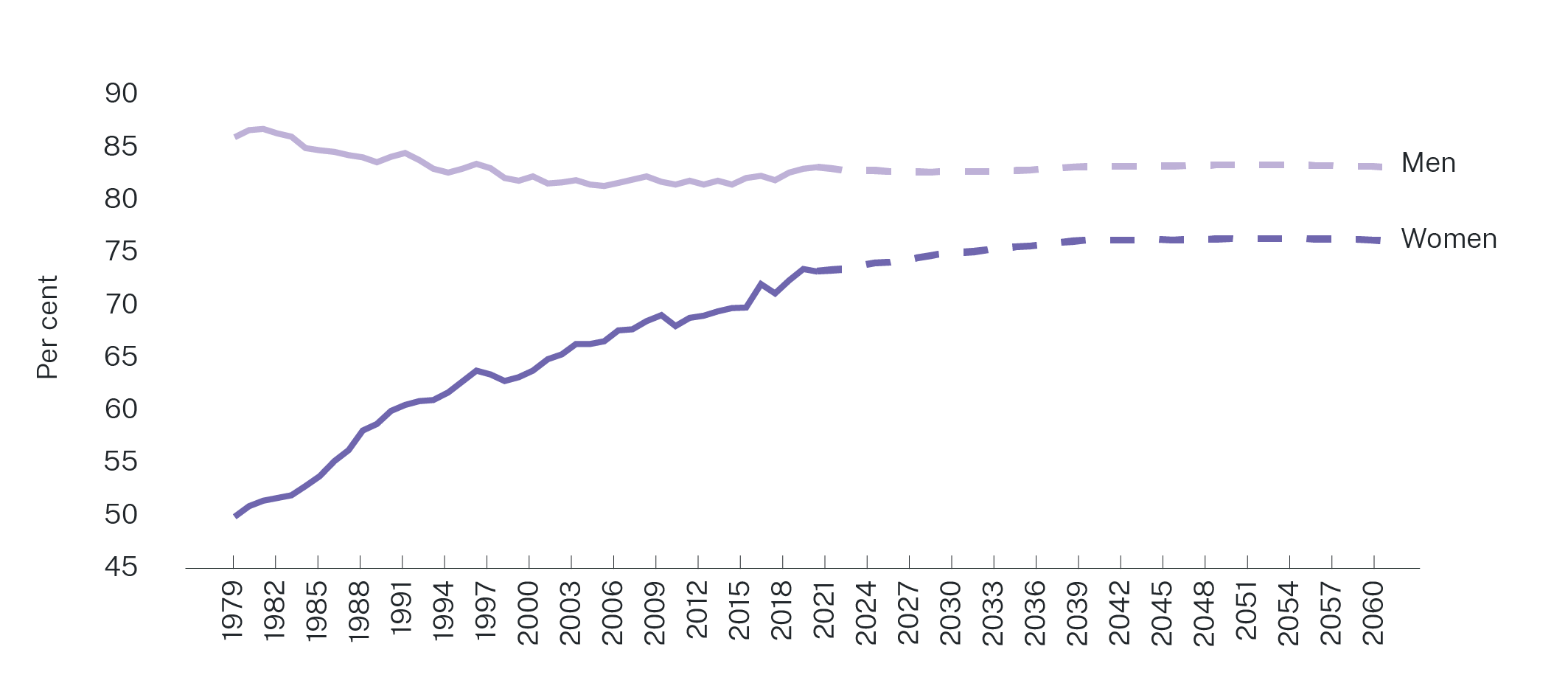 The largest barrier to women working more is the unequal sharing of child caring duties
The most common reason reported by Australian women who are not available to start a job or work more hours is because they are caring for children. Caring for children is far more likely to impact women's employment opportunities than men's.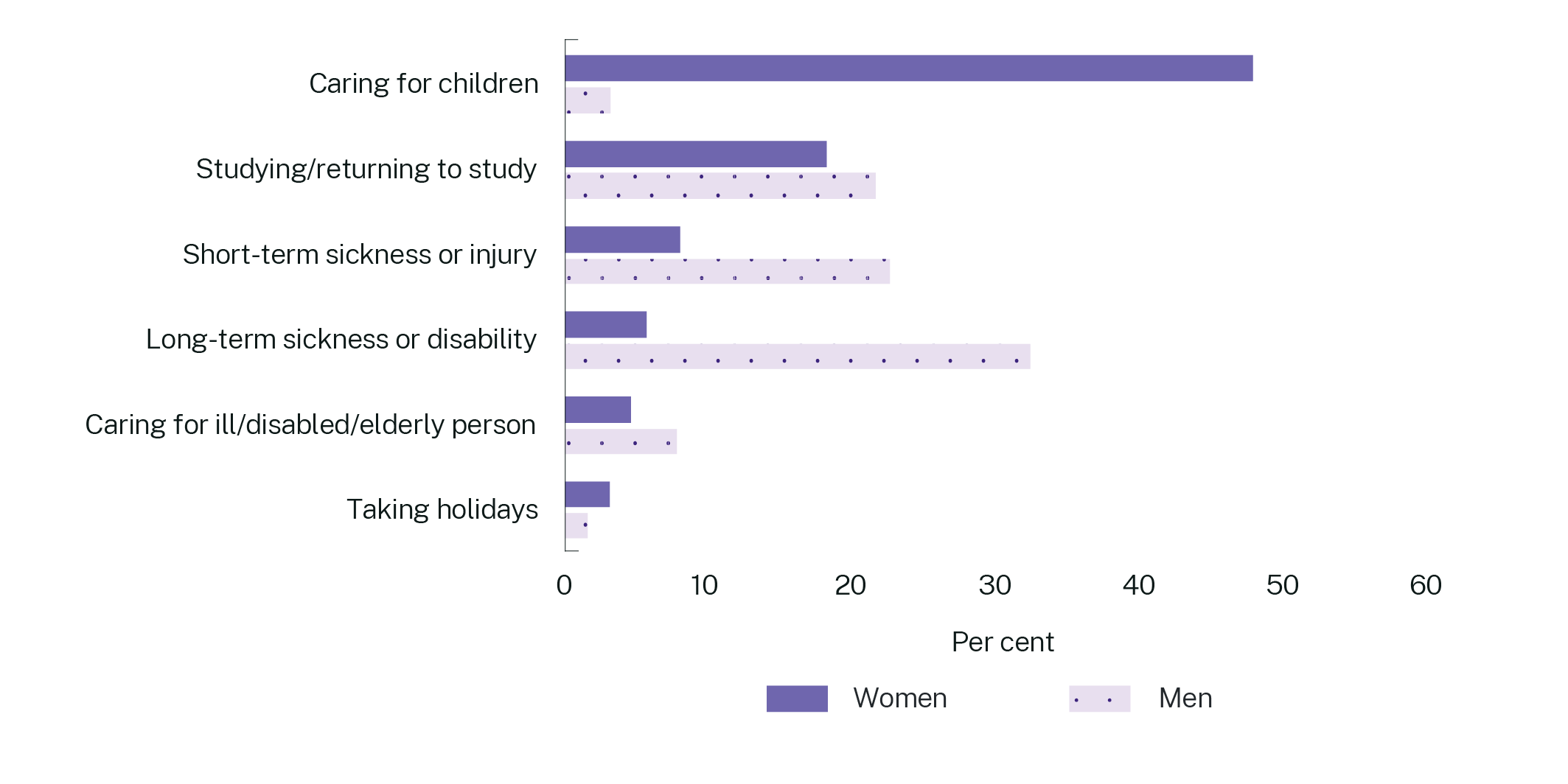 This is reflected in the workforce participation rates of women and men at different ages. While the number of men and women joining the workforce in their late teenage years and early twenties is similar, women's participation rates drop below men's from their late twenties, around the age that women begin to have children. Female workforce participation rates never recover to the same level as the male rates.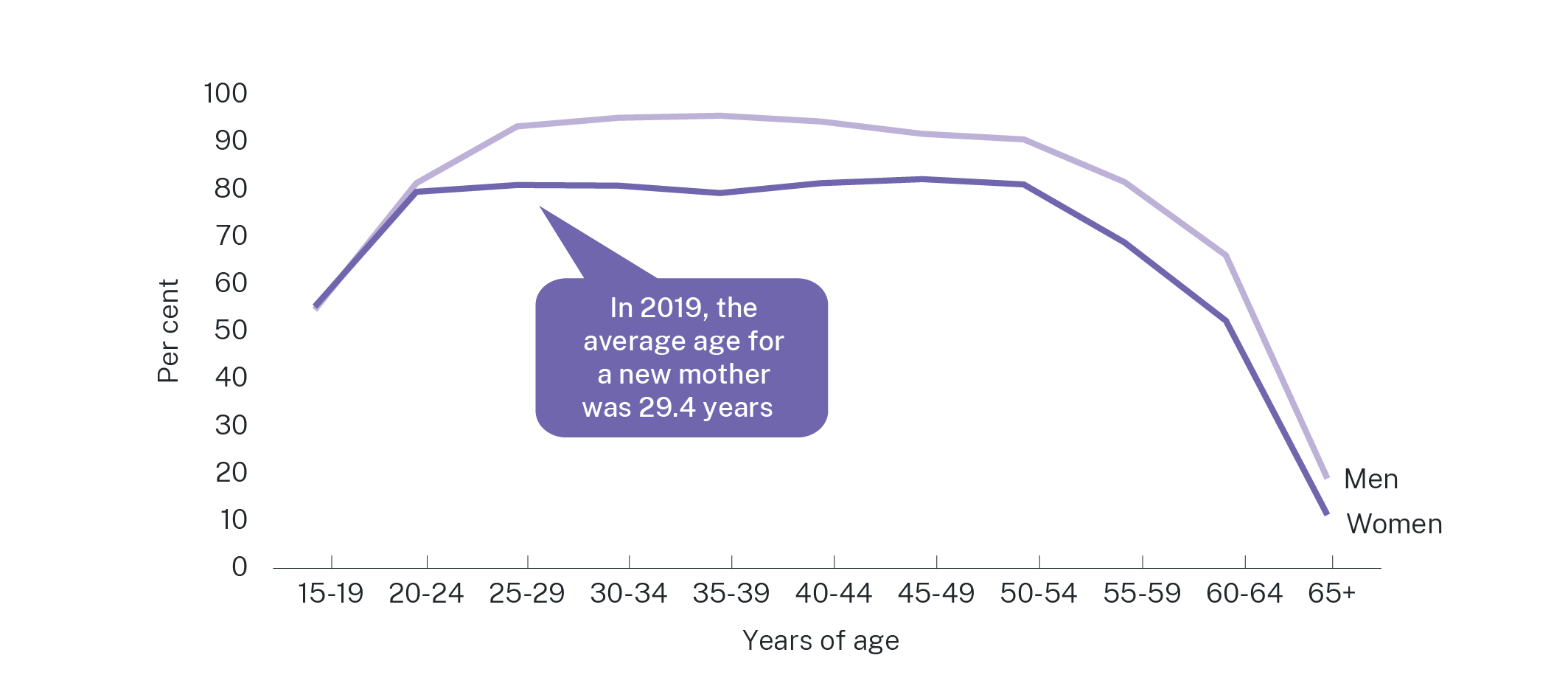 When women spend longer periods of time out of the workforce to care for children, they are less likely to return to work. With each year a woman spends out of the workforce, their professional skills, knowledge and networks can fall further behind the latest standards. This can contribute to increased barriers to return to work and some women may lack confidence in their abilities after lengthy periods without paid employment. Indeed one study estimated  the probability of women not returning to work after a short period away for non-child related reasons is 10 per cent, while the probability of women who take longer, child-related career breaks never returning to the workforce is 30 per cent (Arun, S. V., Arun, T. G., & Borooah, V. K. (2004). The effect of career breaks on the working lives of women. Feminist Economics, 10(1), 65-84.).
For many parents, childcare remains prohibitively expensive and hard to find
Expensive childcare costs can prevent women returning to work. Some families face very difficult decisions regarding whether the second income earner (often a woman) should return to the workforce or continue to care for their children at home because of the way childcare fees interact with the current tax and subsidy structure. The graph below sets out the workforce disincentive rate. The workforce disincentive rate is an indicator of the impact of income tax, the withdrawal of Commonwealth transfer payments, primarily the family tax benefit and early childhood education and care costs on a parent's take home pay receives for each additional day of work. For a family with a combined full time equivalent income of $120,000 a year with two children, where the father earns $70,000 and works full time and the mother earns $50,000 if working full time, the mother only takes home about 25 cents of each dollar she earns four days of the week (NSW Treasury Analysis).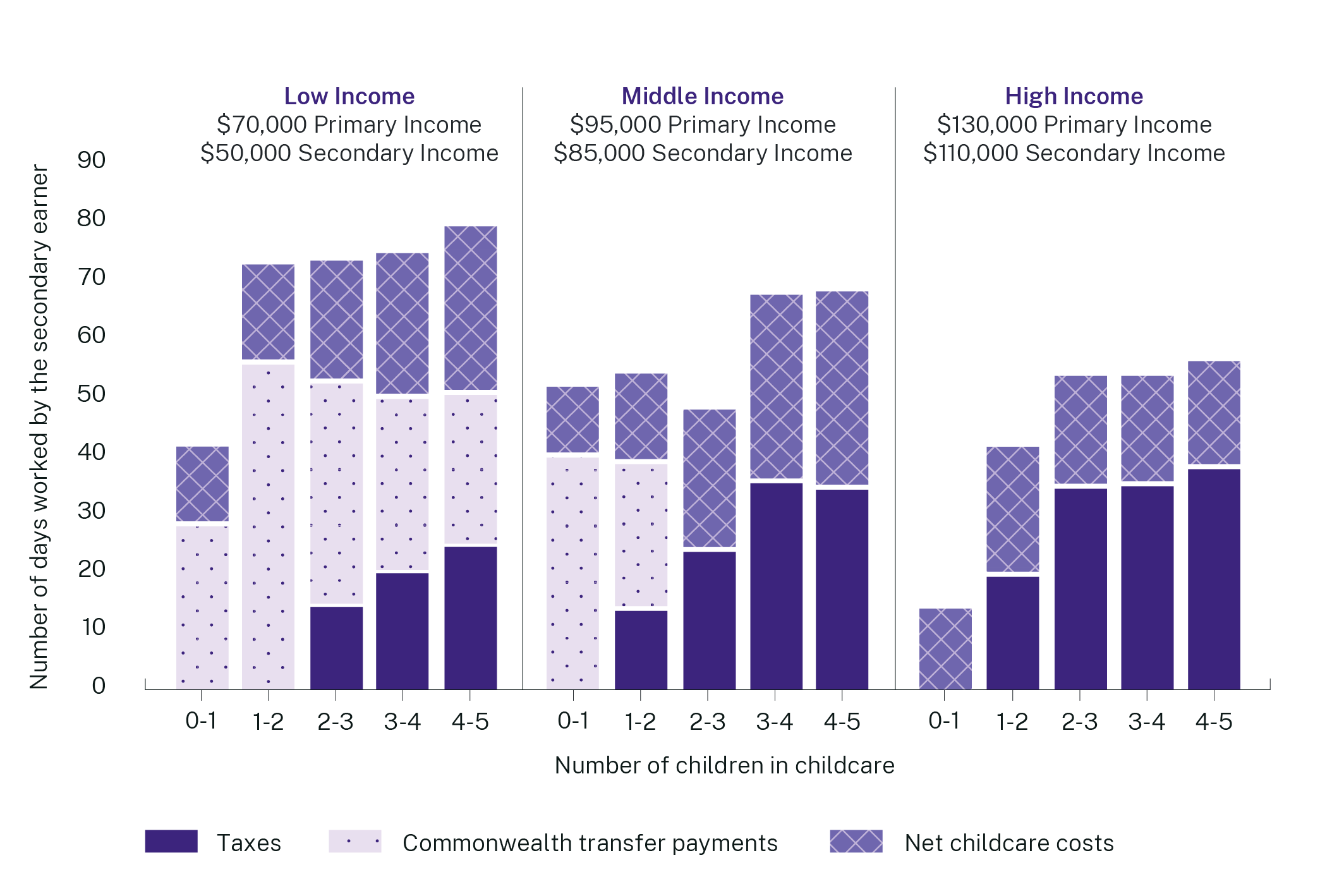 Another challenge parents face when seeking to enrol their child in early childhood education and care is accessibility. There are currently not enough places to meet demand in NSW. According to analysis by the Mitchell Institute, 35.2 per cent of the Australian population live in 'childcare deserts', with less than 0.333 childcare places per child. If families cannot find an available childcare place for their child, they are unlikely to be able to fully participate in the workforce. (Hurley, P., Matthews, H., & Pennicuik, S. (2022). Deserts and oases: How accessible is childcare in Australia? Mitchell Institute, Victoria University.
While this analysis, including the maps, does not include family day care or community preschool, it does illustrate the relative childcare accessibility issues faced by parents living in parts of New South Wales.