Authors: Jas Soh and Sarah Hurcombe
2020 has been the year of complexity – at both work, home and everything in between. 
In a typical year at Commissioning NSW, we often work side by side with teams working in complex service systems. It is not always clear what the best way forward might be either because drivers of behaviour in the system aren't clear, it involves a diverse range of actors or it is an emerging social or policy issue we've not encountered before. 
In these types of situations, we've found that building in reflective practice at key milestones can help project teams and individuals navigate uncertainty, make sense of complexity and take decisions together. There are a wide range of materials on building reflective practice in your work and this great blog post from States of Change last year gathers a lot together.
We drew on reflective practice to support in small part NSW Treasury's response to COVID-19 and we believe there is learning from this experience that can be applied more broadly to complex commissioning approaches in NSW.
An experiment to support NSW Treasury colleagues during COVID
When COVID hit, we wanted to support our colleagues at NSW Treasury who were rapidly responding to the pandemic here in NSW. 
At the same time, we were inspired by a blog about the importance of making sense of key decisions during crisis and capturing the emergence of new practices. 
"People do things in a crisis that they have never done before. Some things will work, some things will fail, but each and every action is an opportunity to learn something. Learning that could be useful to others in a similar situation, or the people following behind you."
Combining these two aims we designed a light touch reflective practice approach which would follow the journey of 18 of our colleagues in NSW Treasury during April to June 2020. The majority of those involved in this exercise with us were senior executives who were leading COVID-19 economic and financial initiatives and responses. 
We had several hypotheses about how this work might help our colleagues during this time:
Support the application of reflective practice as a mindset and habit to empower continuous improvement at NSW Treasury;
Capture any learnings that emerged from this period to help NSW Treasury apply them beyond the immediate crisis phases; and
Identify opportunities for improved ways of working and decision making more broadly in NSW Treasury.
Aware of the high intensity, fast paced and unprecedented situation our colleagues were working in we designed an approach that wouldn't get in the way but which would support them to reflect on the decisions they were making and to identify any emerging lessons learned.
The approach we took is illustrated in the below diagram.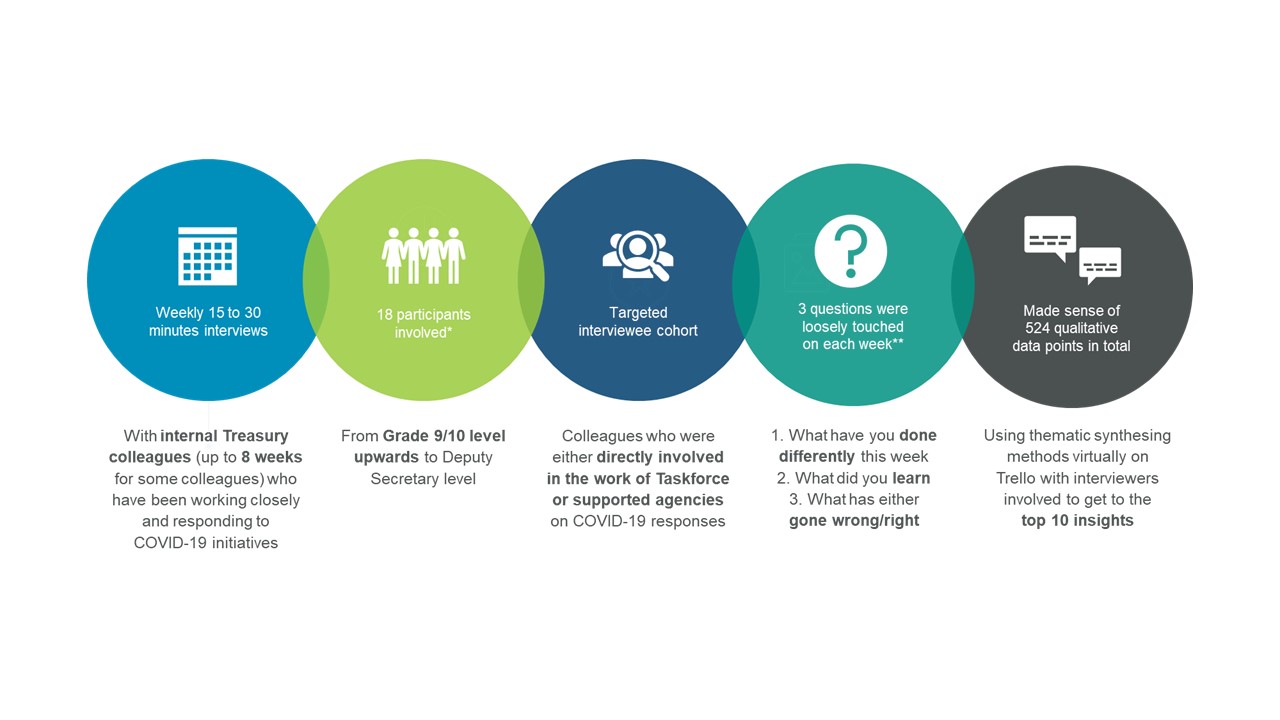 What we learned from our experiment in reflection 
There were a number of cross organisational insights that we learnt from undertaking this experiment during COVID-19 which we have shared with our colleagues in Treasury. Some of these things have been actioned as part of wider organisational practice and some are still being considered. 
For ourselves we've learned several things we want to continue to practice now that the immediate crisis response has passed.
Be brave to try something new: This experiment reminded us that it takes courage and resilience to try new things even in unusual times. Building in time to reflect on decisions in the moment is not common and initially people weren't sure of the value of trying this approach in the middle of a pandemic. However, once the process started participants valued that it gave them time to slow down, think and talk about what they had done in the past week and reflect on what they might do differently in the week ahead to get different outcomes.
 
Make it easy and accessible for people to embed reflection practice: People within and outside NSW Treasury started to hear about our experiment and were interested to adopt reflective practice themselves but were not sure how to start. We took the opportunity to facilitate reflection sessions for them and their teams to demonstrate the value and share easy ways to start the practice. We also produced a short slide pack to help teams wanting to adopt reflective practice which you can access if you're interested - and we would love any feedback on this.
 
Be open to wider impacts outside immediate scope of work: This reflection process with our colleagues gave us insights into broader organisation-wide opportunities for change that we'd not anticipated. A large amount of information and insight we gathered through this work has been shared with those who have responsibilities to affect change based on these insights across the organisation. This work has also enabled us in the Human Centred Design team to build stronger relationships with a wider number of colleagues across Treasury which helps us do our own day to day job better.
Embedding reflection in future commissioning work
Whilst the frequency and level of reflection used in this COVID-19 experiment won't typically be possible or desirable in most commissioning projects there is value in reflective practice at key milestones involving a diversity of partners. We think this is particularly important when commissioning in complexity. 
For our own team – the Human Centred Design team - reflective practice has become a regular feature over the last two years. We use it for key milestones in each project we work on with NSW government agency partners. We also hold quarterly lessons learned sessions as a team where we look back at what we have learned about our own projects, the application of design in a commissioning context as well as what we've learned about the wider system we work within.
We've found reflective practice enables us to gain better awareness of ourselves, our knowledge and biases, workplace practices and the people whom we work with. It can be uncomfortable at times reflecting on things that haven't gone well but it helps us be a stronger team together.