Commissioning for outcomes is just like fighting smallpox…sometimes the solutions to tricky problems come from unexpected places.
Smallpox was a scourge – some estimates say it killed up to 300 million people in the twentieth century. You don't hear about it much anymore because it has been globally eradicated, largely thanks to Edward Jenner's work proving the value of vaccination against smallpox.
The traditional tale is that the inspiration for Jenner's discovery came from well outside the medical establishment. Jenner overheard a milkmaid say, "I shall never have smallpox, for I have had cowpox", which inspired him to make the connection between the two and develop a smallpox vaccine from cowpox.
Modern historians dispute exactly how Jenner came to hear about the link between cowpox and smallpox but one part of the history is clear - milkmaids and farmers had spotted what had eluded physicians and scientists for centuries. For all of Jenner's brilliance, where would we be if the medical establishment had not tuned into this source of intelligence?
Commissioning also involves multiples players and sources of intelligence (but usually not milkmaids)
Some concepts of commissioning – concepts like design, markets, evidence and contracts – may make it seem that key commissioning roles and responsibilities are largely held by central teams. But let's not forget about those other key commissioning concepts: client-focus, collaboration, partnership and co-design. In order to be the best commissioners we can be, we need to recognise – and most importantly, use – all the teams contributing to the commissioning effort in the organisation.
When the Department of Communities and Justice commenced a major reform of the out-of-home care system in 2017, we knew the Department and funded service providers had to work together more closely on a daily basis to monitor and pursue permanency outcomes for kids. What role did we create to achieve this? We hired practice-focused staff all over the State to work 1:1 with providers overseeing individual kids' case plans. These staff have supported NGO caseworkers to implement the massive practice uplift required to work closely with kids, families and carers to pursue timely permanency outcomes for kids, and are a key contributor to delivering overall better outcomes for kids in care.
At DCJ we are starting to recognise practice-focused teams like these as core teams in our commissioning value chain.

Synchronise your watches
A commissioning value chain is simply all the teams that contribute to the commissioning effort in any organisation.
The role of a commissioner includes:
Outcome owner – the commissioner is responsible for the achievement of system-level outcomes
System steward – the commissioner manages and governs the service system to achieve outcomes over time
Service commissioner – the commissioner may procure and manage the delivery of services to achieve the desired outcomes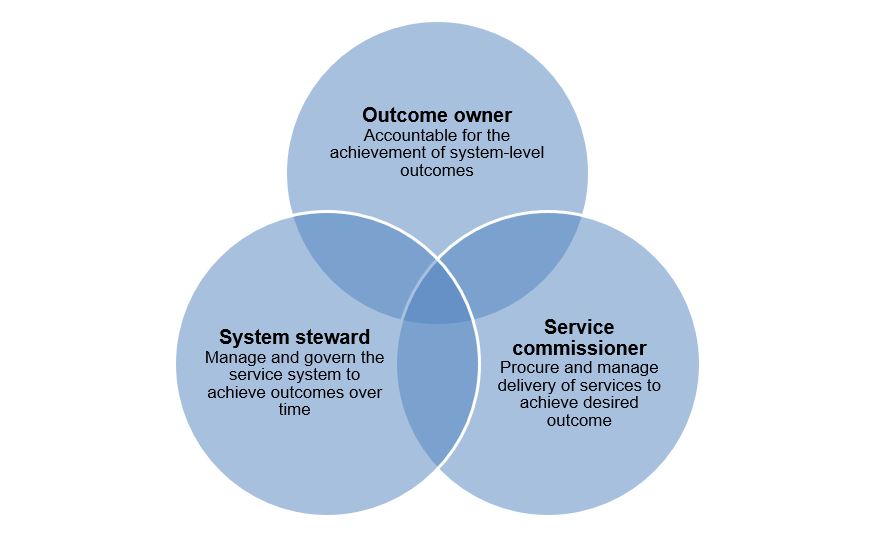 Naturally this broad remit involves multiple teams doing various different functions: from service design to managing payments; from policy-making to quality assurance (see Figure 1).
The commissioning value chain illustrates that we all have different roles and responsibilities which are separate and distinct, and that's appropriate – we all contribute to good commissioning in different ways. But we can only get the best out of our value chain if we work together for a common purpose.
When a commissioning value chain is not working optimally, you may hear comments like, "another team spends months developing this great service design, then they dump it on us and give us two weeks to implement it", or, "I'm not sure why that team have raised this as a system-level issue, I haven't noticed that issue from here".
When a commissioning value chain is working optimally, all teams understand how they contribute to a common purpose and set of outcomes for a program. Teams share intelligence to develop a fuller picture which in turn helps them all do their jobs better.
That sounds nice…but do I have to?
There are three obvious benefits to getting your commissioning value chain right:
Decision-making is improved by using all the evidence available. Like Jenner, we need to tune into intelligence from across our value chain to enable better problem solving. We will never figure out how to make a large complex system work better just by looking at performance dashboards or talking to peak organisations, or just by looking at individual or provider-level performance. We must always ask the milkmaid what she thinks. Sometimes you will be the scientist and sometimes you will be the milkmaid: in the role of the scientist you need to be open to hearing from colleagues with different perspectives; and in the role of the milkmaid you must be prepared to share your insights to help others make better decisions.
 
You present a united voice to providers. Nothing can be more frustrating for a provider than getting different messages from the various teams in the commissioning organisation. After all, don't you work for the same Department? When all parts of a value chain understand the bigger picture and collaborate closely, the provider should experience the commissioner as a more consistent, responsive and reliable partner.
 
Consideration of provider performance is more comprehensive. Outcomes are hard to articulate, hard to measure, and often hard to achieve. We cannot expect just one part of the value chain, like contract managers, to be talking to providers about their performance. Client-facing commissioning functions like access and referral and quality-assurance teams are better placed to understand how providers are meeting the practical needs of clients. It is therefore natural that they be involved in holistic conversations with providers about what they are doing well and how they could keep driving towards better outcomes. Some of our Department's Districts are already doing this in the context of the out-of-home care example. Practice-focused staff working 1:1 with providers are joining contract managers in providers' periodic performance management meetings. This has been crucial in ensuring the accountability discussion is not just focused on the contract or payments, but on the outcomes being achieved for clients.
At the Department of Communities and Justice we have recently been focusing on how we can be working better behind the scenes so we can be the best possible partner for our providers and have maximum impact on client outcomes. We are analysing commissioning value chains in out-of-home care, intensive therapeutic care and social housing and as the concept takes hold, we are seeing value chains wherever we look. We hope you will too!